Initially, the contents of the JR2 file will be blank. To add files to the JR2, use the Add button. You will then see a standard windows Open dialog box appear, like the one shown below :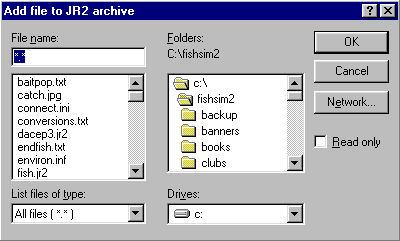 Through this dialog, you can select a file to add to the JR2, by clicking it, in the left list to highlight it, then pressing the Ok button. The dialog will the disappear and you will then see the file manager dialog again, this time with the file you selected listed in the JR2 contents box.
This will come as a relief; You do not have to select one file at a time, you can add multiple files in one go (phew). To do this, click the add button as normal. To select multiple files, hold the Ctrl or Shift key down at the same time as clicking the filenames, to highlight more than one, before clicking Ok to add all the files in one go. The Ctrl and Shift keys work in exactly the same way as they do in most Windows applications, with the Shift key highlighting "ranges" of files and the Ctrl key highlighting files one at a time.
You cannot add files that are outside of the fishsim folder, the add-on manager won't let you. Any files in the fishsim folder, or any folder coming off that can be added, nothing else.
In the unlikely event you make a mistake and add a file, you didn't want to, you can remove the file from the JR2 list. To do this highlight the file in the JR2 contents list, and click the remove button. Multiple files can be removed, with the use of the Ctrl and Shift keys. They work in the same way as described above.
When you remove a file, in it's place will appear [None] in the JR2 contents box to show a file has been removed. The next time you add a file, it will look for entries where files have previously been deleted and fill them with the new file, replacing the [None]. If one isn't file the new file is added to the end.
Don't worry at the end of it all if you have gaps with [None] in them, the add-on manager will ignore them when creating the archive.
Also, you don't need to worry about where files will be placed on the remote computer when the JR2 file is imported, this will all be handled by fishsim 2. As long as the venue, fish species, or tackle works on your copy of fishsim 2, it will on the remote computer.