When you click the Generate offline button, you will see a screen like below, containing as a reminder some of the information that you have already defined. The bottom half of the dialog still needs to be completed though with additional information.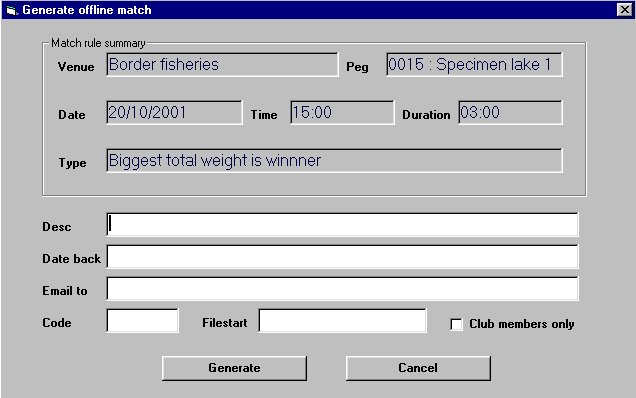 All of the information in the white text boxes should be filled in. The Desc text gives the anglers who are fishing the match a brief description of the match, for example "Border fisheries specimen match, winner is the angler who catches the biggest carp". You can enter anything here to describe your match, but try and keep it as brief as possible.
The Date back text can be used to give guidance to the anglers of the last date and time that there results can be submitted by. This can be in any format as it is used for display purposes only.
The Email to text box is used to give anglers the email address of where to send there results file to, when they have completed there match. This can, again, be in any format, but it is advised that just an email address is used here.
The remaining two boxes are more important and require more of an explanation. Each match that you run has to have a different number entered in the Code field. It is advised that the first match you run, you use the code 1, then 2 for the next match and so on..
The Filestart box has to contain a unique file name starting sequence ( upto 9 characters long ) consisting of alpha-numeric characters. It is advised that a different one be used for each match you run. For example, if JASE1 was entered for the first match, the draw file created would be called JASE1.J2D and all the results files for the match would be in the form of JASE1_TOM.J2R, JASE1_DICK.J2R and JASE1_HARRY.J2R etc.. The next match that is run could have a filestart as JASE2 for example.
The Club members only checkbox is not currently used, but it is recommended that this be left unchecked for compatibility with future matches and updates.
Once all the details have been entered, click the Generate button and the offline match will be created. This will create a file called, in the example used above, JASE1.J2D in the OFFLINE folder of FS2. This is the match draw file that should be distributed to people. You can either distribute the file as itself, or in JR2 form to make things easier for the remote anglers to import.
After distributing the draw file, you will then need to wait for results to arrive back from the anglers participating in the match, and then when either all are back or the time is up, you can go ahead and decode the match results, see below :